The names of hills and rivers found on our one-inch-to-one-mile topographical maps are, without doubt those given by the earliest surveyors. They were mostly British , and whenever they could use a local name to represent the topographical features of an area they found , they sure did.
However if no local names were readily available to them , they invented names, and so we have such features as Corbets Gap , Horton Plains, Elk Plains, Worlds End and Mount Peacock .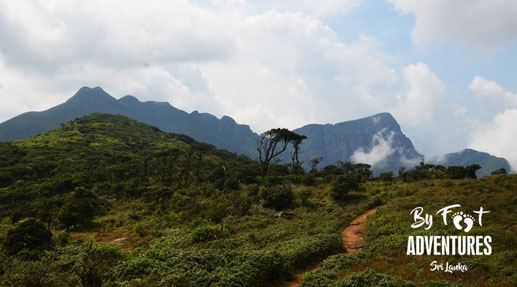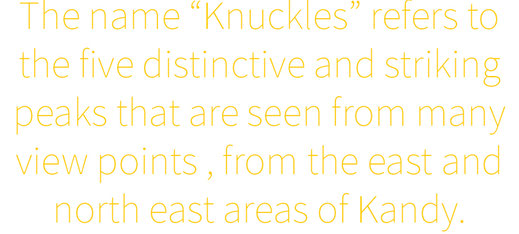 When viewed from certain angles they look like the knuckles of a clenched fist at the end of an outstretched arm. It is by far the most appropriate name for these peaks. Elsie Cook , who was a great lover of this country and its people, came to demarcate the physiographic regions of the island. She recognized that the entire hill mass surrounding the knuckles constitutes and physical entity which is entirely separated from the rest of the hill country, by the broad Dumbara Valley. For the need of a better name, Elsie Cook named this entity the "Knuckles Massif". She did so because although Gombaniya is the highest peak in the unit, the Knuckles are better known and more easily visible and recognizable from all sides.